June 14, 2023
Tory Steel Announced as Recipient of the 14th Annual M&A Advisor Emerging Leaders Awards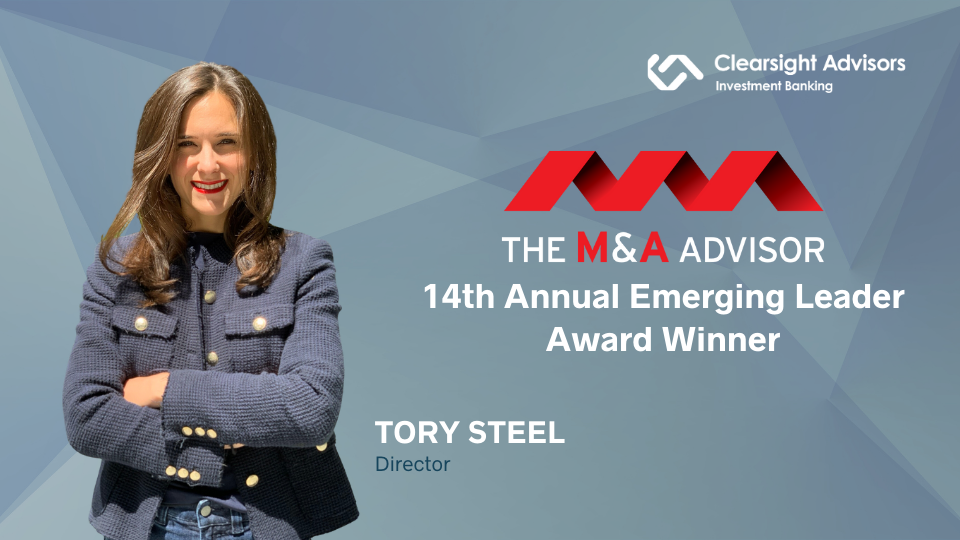 Tory Steel as a recipient of The M&A Advisor's 14th Annual Emerging Leaders Award.
Tory Steel is a Director at Clearsight and co-leads the firm's Healthcare & Life Sciences Practice. Since joining Clearsight nearly a decade ago, Tory has helped propel Clearsight to its position as a leading advisor to the Knowledge Economy. Thus far, Tory has successfully completed over 20 transactions, advising on more than $6 billion in transaction value. Tory joins a pool of prominent nominees, chosen for their notable accomplishments in business and in service to the community.
"To receive this distinction is an honor," said Tory. "I'm incredibly grateful to have the dedicated support of the Clearsight team, comprised of exceptional bankers and even better people, who fuel my passion for helping our clients achieve their goals. Thank you to my mentors, colleagues, and clients who have imparted invaluable knowledge and guidance. Along with this fantastic group of Emerging Leader Award recipients, I'm thrilled by the opportunity to uplift the next generation of leaders in M&A."
Clearsight Co-Founder and CEO Joel Kallett underscored Tory's strengths: "Tory adds immense value to the Clearsight team and our clients through her intelligence, dedication, and character. She is an exemplary investment banker, colleague, and person. It has been a joy to witness Tory's professional and personal growth over the years and I have every confidence she will continue to succeed in the many roles she plays."
The M&A Advisor, renowned globally for its recognition of leading M&A, financing, and turnaround professionals, created this awards program to promote mentorship and professional development amongst the emerging leaders of corporate finance and dealmaking industries. Evaluation and selection of the nominees was completed by an independent judging panel.
"The Emerging Leaders Awards were born to recognize and celebrate the achievements of young M&A, Financing, and Turnaround professionals who have reached a significant level of success and made notable contributions to their industry and community. With the challenges undertaken over the past three years, especially with the pandemic and with challenging economic uncertainty, our selected honorees are at the top of their game. The 2023 award recipients join a truly remarkable, global network of outstanding young professionals," said Roger Aguinaldo, Founder and CEO of The M&A Advisor.
For a complete list of the 2023 Emerging Leaders Award Winners click here.