June 27, 2023
Cybersecurity's Golden Mean
For nearly 2,500 years, philosophers have wrestled with the age-old question of how to balance the three pillars of cybersecurity: technology, processes, and people.
Well, not quite. As an explicit concept applied to cybersecurity, this framework has been advanced for a mere few decades. Nonetheless, the core understanding behind it traces back to Ancient Greece, with Aristotle and his proposal of the Golden Mean.
Aristotle believed that virtue lay between the extremes, deficit or excess, of two vices. For example, the virtue of courage lies in the middle of a continuum between cowardice on one end and recklessness on the other. The Golden Mean is not the result of a mathematical equation, nor does it necessarily fall exactly in the middle of the continuum; instead, it varies based on situational circumstances. This balanced approach is sometimes summarized as "moderation in all things." In the cyber realm, moderation in the pursuit of security is not always seen as a virtue; yet today's security environments can still become dangerously out of balance when certain pillars are neglected in favor of others.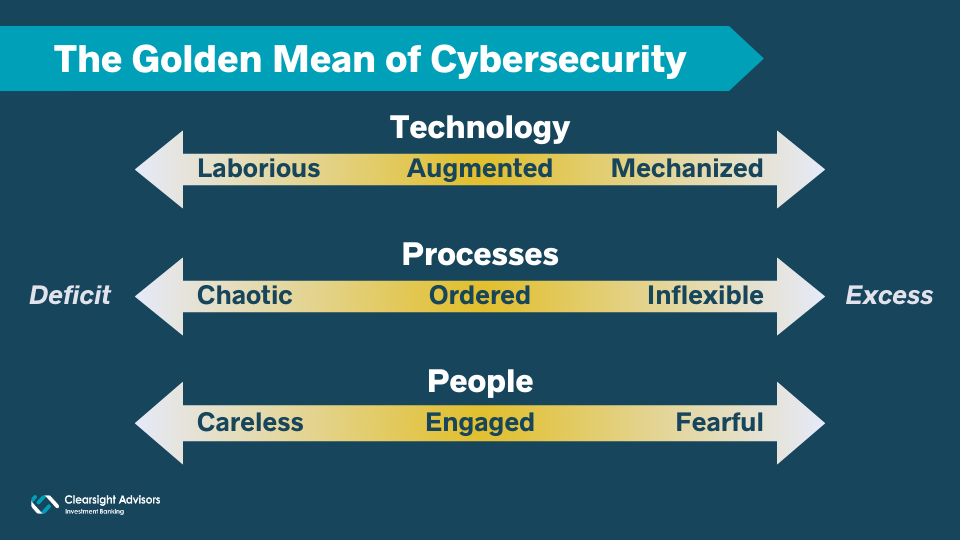 Managing Director, Clearsight Advisors
Washington, DC
jmccabe@clearsightadvisors.com