March 20, 2023
Talent, Technology, and Transformation – Insights from Clearsight's 2023 Knowledge Economy Summit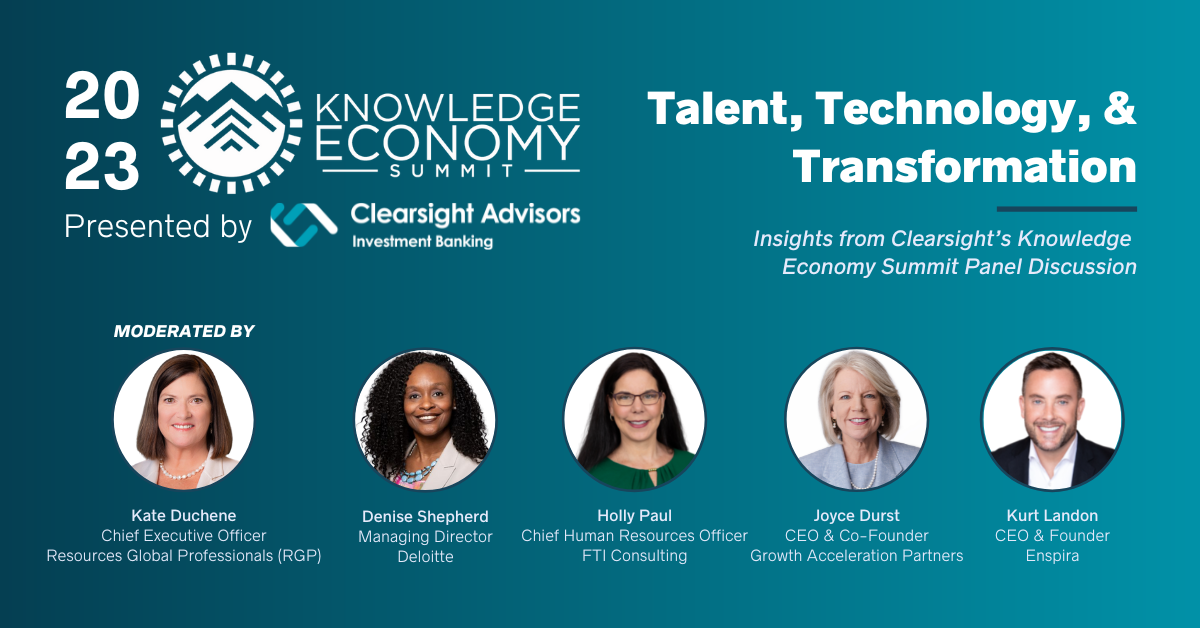 Resources Global Professionals ("RGP"; NASDAQ: RGP), graciously moderated the discussion with panelists: Denise Shepherd, Managing Director, Deloitte Services LP, and US Firms Workforce Strategy & Solutions Leader at Deloitte; Holly Paul, Chief Human Resources Officer at FTI Consulting ("FTI"; NYSE: FCN); Joyce Durst, CEO and Co-Founder of Growth Acceleration Partners ("GAP"); and Kurt Landon, CEO and Founder of Enspira. These leaders generously shared their perspectives on running their respective businesses and serving clients.
To kickoff, each panelist shared a workforce challenge and created common ground with each other and the business leaders in attendance. Landon and Durst agreed it can be challenging to navigate inevitable uncertainty in the economy and best position their businesses and those of their clients. Shepherd observed the overall pace of change in the workforce – from technology and skill requirements to employee desires – has sped up. Paul added to Shepherd's point on the workforce evolution, noting younger generations seek a different company culture than what executives experienced at the same stage in their own careers.
­In the Knowledge Economy, a company's largest "asset" is the intellectual power of its employees who produce intangible work products involving a high degree of skill and analytical rigor. Since the pandemic, these jobs have been at the center of conversations about where and how people work. Shepherd noted employers must make deliberate choices about work structure to adapt to the changes in the workforce. Durst agreed, noting the pandemic led GAP to better support and focus on their people as a whole, not just their roles. Adapting to the pandemic included understanding the shifting power dynamics between employees and employers. Broad work from home flexibility provided the Knowledge Economy workforce with greater agency, but this ebbs and flows with the economy. Landon noted the current duality in the job market – a heightened need for niche talent contrasted with layoffs – differs from the pattern of a contracting economy typified with joblessness increases.
As the conversation shifted to employee retention, two philosophies emerged. Durst and GAP see "employees for life" and create a company and culture able to grow and change with their employees. Paul noted this concept is challenging for the 7,600+ employees at FTI Consulting, which seeks to create a work culture agile enough to allow employees to try new things within the existing organizational framework. Indeed, the ability to balance overarching organizational goals and employees' expectations for flexible, engaging, and rewarding work environments is a common struggle across the Knowledge Economy, further punctuated by the pandemic.
Workforces in the Knowledge Economy are often distributed across multiple office locations, countries, and time zones. Paul mentioned FTI supports a hybrid workforce, with leaders preferring not to limit job postings by location, thereby increasing their chances of finding great talent. For Landon and Enspira, the pandemic catalyzed a pursuit into emerging talent pools from different geographies and universities. In considering talent acquisition, Landon also noted a common mistake seen in bear markets: companies deprioritize specific hiring efforts to balance talent through the lens of diversity. Landon says now more than ever, Knowledge Economy businesses should double-down efforts on creating diverse organizations, which tend to result in higher-performance environments.
Contract workers are a common talent pool for many Knowledge Economy businesses but can present a continuity issue in relation to W2 employees. Recent research published by RGP found that partnering with talent from consulting and staffing organizations, as opposed to independent contractors, correlates with greater project success. Duchene also notes in the brief, "The biggest challenges by far reported today are managing the hybrid team with both remote and office workers and managing organizationally diverse teams. But if you get them right, they're also the greatest competitive advantages." Shepherd pointed out that while the contingent workforce is critical, if trust is considered capital, clients might have their own expectations about how much of the workforce is permanent versus contingent.
Dispersed, outsourced, hybrid, and part-time employees present an added hurdle in creating a cohesive company culture. Durst and GAP are well-versed on this, supporting more than 600 in-house engineers across 22 different countries, with multiple centralized offices to support culture building. Durst noted the importance of multicultural training in the creation of a unifying company culture. Shifting to the desire for immediate feedback often seen in younger generations, the answer again revolves around culture. Landon noted fostering a culture of feedback can be beneficial throughout the organization, particularly at the senior level. Durst advocated for feedback periods at the conclusion of significant projects rather than the traditional annual performance review. Shepherd agreed on the benefits of frequent check-ins, but reiterated employees should be empowered to seek feedback at any time, rather than waiting for managers to deliver it on a pre-determined schedule.
Duchene, Durst, Landon, Paul, and Shepherd all provided incredible perspectives on their experiences, and we are grateful for their participation in making our 2023 Knowledge Economy Summit a success. Given the low unemployment rate of 3.6% at the time of publication, along with globalization and changing expectations of Knowledge Economy workers, employers should be attuned to the future of work as they seek to attract new employees and retain high-performing talent. A strong, supportive, and uniting company culture is likely to become an increasingly powerful differentiator and factor into employees' willingness to stay or explore other options. This panel provided fantastic insights and outlined new policies leaders can reference to ensure their firm stays ahead in the race for talent. To learn more about Clearsight's annual summit or experience advising Knowledge Economy businesses, please reach out to the team at marketing@clearsightadvisors.com.
Source 1: RGP "Overcoming the Execution Challenges of Mission-Critical Projects"
Source 2: U.S. Bureau of Labor Statistics